Castle of Dreams Because Your Dog is Worth it Too
ABERDEEN-BASED CASTLE OF DREAMS ANIMAL RESCUE ATTENDED AN AWARENESS FUNDRAISER AT THE L'OREAL FACILITY IN CRANBURY, NJ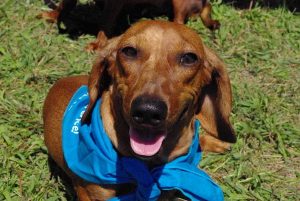 Over 5,000 canines and humans gathered at the L'Oreal Facility in Cranbury last Saturday, Aug. 14, to raise awareness about charitable animal rescues and organizations while raising money for the Susan G. Komen Race for the Cure Breast Cancer Foundation.
The event was a sneak preview of the 8th annual Because Your Dog Is Worth It Too day at L'Oreal. As described by yourdogisworthittoo.com, the event, "couples two different causes into one great experience." Every cause in attendance has a chance to raise awareness, funds, find foster homes and have a great day with other like-minded organizations.
Aberdeen-based Castle of Dreams Animal Rescue (CODAR) was among the organizations out there working to raise awareness about kill shelters and canine foster homes.
There was no time to sit pretty with activities running non-stop throughout the day. Attendees participated in a dachshund race, dog costume contest and parade, terrier hurdling, dog high jump contest, the 3rd annual NJ state dog bone stacking contest, the 7th annual NJ state puppy limbo championship, and a puppy swimming pool and hay maze, among others.
As a non-profit canine rescue group, CODAR takes in dogs of any breed from around the country, particularly from high-kill shelters and puppy mills along the east coast. CODAR arranges transportation for these animals and finds them medical attention, foster care and eventually forever-homes.
CODAR does not have a shelter location, and relies solely on volunteers providing funds and foster homes in Monmouth County for these animals.
Every foster parent working with CODAR makes a promise to provide these lost animals with love, attention and socialization, according to CODAR owner Jackie Hastings. They also screen any potential adopters to ensure the best possible match, trying to pair personality and behavior.
Founded in June 2003, CODAR began when three friends decided to branch off from another organization and create something better. Since then, the charity has rescued more than 1,500 canines of all ages and breeds.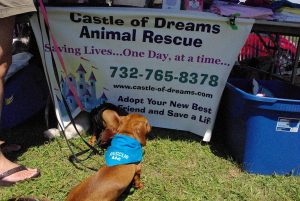 "I always loved dogs since I was young, and always wanted to be around them. My parents wouldn't let us get another dog when I was growing up. Now I have 6, guess I am making up for lost time," Hastings said.
CODAR is hoping to open their own facility in the future, named "Royal Palace", where they will be able to help more dogs when there are not enough foster homes available. They often host adoption days at Petsmart in Holmdel, New Jersey on Highway 35.
It's not too late to attend the 8th annual Because Your Dog Is Worth It Too. The event will be held on Saturday, August 20th from 9am-4pm at the L'Oreal Facility, 35 Broadway Road, Cranbury, NJ 08512
Please visit yourdogisworthittoo.com for more information on the event.
If you are interested in fostering, adopting, donating or volunteering with Castle of Dreams Animal Rescue, please visit castle-of-dreams.com, email castleofdreamsar@yahoo.com, or call 732-765-8378
By Jacqui Donnelly August 18, 2011
Photo Credit: Jacqui Donnelly